Guest
Guest


Subject: Secrets Abound (Omega Noble) August 13th 2015, 20:40

---

The grey pelted fae moved cautiously into the clearing. Scents abounded the strongest here and all she had to do was follow her nose. After the run in with lead hunter Finnick she still had yet to decide where to make her permanent residence. The sun had begun to sink, colors flying through the heavens to paint it a pinkish red, it would be another sunny day tomorrow. Thought swirled through her mind, trying to think of a way to help her second leader, but none of it showed through her mask. Cautious as ever, the fae looked around the clearing to see if any wolf were present. Seeing none right away, her gaze drifted upwards to the green trees. It was summer and she had been in her new home for a while, but not to the pack clearing. She had instead decided to explore the lands that the pack owned, curious of all the space. She had answered the call for the pack gathering it was true and she had seen many wolves there but none had yet to approach her or she them. Maybe it was time to get to know some of them. To feel them out and what they thought of their pack.

Information was always what Nyda liked. Information on the surrounding lands, and it's inhabitants. She also wanted to find the omega that Finn had told her about. Nyda was not one to judge immediately but, preferred to make up her own mind about others and see for herself who they really were. Now she would listen to her orders if they were issued by one of higher ranking than herself, but she still had control of her own mind and didn't follow blindly into something she knew nothing about. Nyda hoped to talk to the omega fae to get more information on what had happened recently and one could learn bit by paying a little attention to a lower ranked member.
Noble Of Erenyx
Member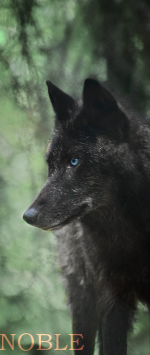 Posts

: 75


Join date

: 2014-12-09


Age

: 19


Subject: Re: Secrets Abound (Omega Noble) August 19th 2015, 00:05

---

Noble was finally coming from the shadows. His blue eyes shined slightly, he had seen his love at the pack gathering. It was just what he needed to boost his mood. He lifted his head and trotted quietly, eyes staying in front of him as he moved. His tail swayed back and forth in a wag, legs stretching out in front of him as he moved towards the camp clearing. He let his ears flatten against his skull as he entered the camp clearing. He dropped his head and became neutral to anyone whom might see him. His ears went neutral, just standing at normal rather then pressed against his skull. He sighed as he spotted one of the faes that had been at the meeting. Nillie? Nyla? Whatever. His mood instantly dropped, she was not the fae he wanted to see. He shook his shoulders and stepped towards her slightly, blue eyes touching the ground instead of looking upon the she-wolf. He took a deep breath and let words fall from his maw. "Uh, excuse me miss, you are one of the Hunters here, yes? Nyda, right?" He recalled her name from his memory and shifted slightly to get a good look at her. Eyes searching her instead of the ground. He knew her reaction could be horrible since he was a mere Omega. He knew his punishment was for 'good' cause, but it made him hate the Alpha, especially since he hadn't remembered his name. Noble had perked up at the thought of challenging a wolf, but then the Alpha had said that Omega's couldn't challenge. The thought simply bore more anger and hatred towards the alpha demon. "I'm an Omega here, so if you need anything, like... a hunting partner, or maybe someone to sink your teeth into, I'm here." He motioned his nose towards his den, something hidden near a tree that only a wolf with keen eyes would spot. He turned back to look at her, his words falling silent as he waited for a reply.