Name:
Emily
Gender:
Female
Age:
2
Pack:
 Erenyx
Rank Requested:
Caretaker
Appearance:
Emily, the kind yet fierce she wolf, has a stunning black pelt. She has striking sea green eyes that will capture your heart. Her smile is both gorgeous and astonishing. She is proud of her beauty, however she does not obsess herself over it and be a selfish wolf about it. She knows how to cock her head and lay back her ears to look completely innocent, and her pretty figures add to the affect. She is almost completely unscathed, but a small scar over her neck is present, although not visible unless her fur becomes parted to show the skin underneath. Her pelt, thick and soft, is very silky and shiny. She doesn't mind getting it a bit dirty from time to time either. Most would call her attractive, however, she takes the comments but doesn't gloat over them.
Photo: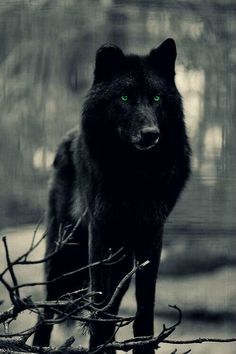 History:
It was dark. As Sean, the alpha of his pack, neared the den, he heard her cries of pain. He wasn't allowed to go into the Medicine Wolf's den during births, which he found agitating because his love, oh his love Cara, was letting out her agony through her desperate howls. And he wasn't allowed to see her. He began pacing, back and forth, back and forth, waiting for the despair of her cries to stop. Finally, they did, and two sets of voices came from within. Cooing, complimenting, loving. He knew it was done. He sat and waited. Finally, Rose, the medicine wolf, came to the entrance. She popped her tiny little white head through the hanging vines and told him to come in. He followed her through the tunnels down to the deepest part of her den. There lay his alphess, and suckling on her stomach was three tiny little newborns. She looked up from her children and a silent tear rolled down her cheek. "Two boys and a girl. I need your help naming them," she said. He laid down beside her and they scoured through a long list of names. The two boys were given their names instantly, Ryan and Josh, but the girl was nearly impossible to find. There was Allie, Alicia, Emma, Penny, Sara (A mix of both her parents names), but nothing stuck. Rose took a bold chance and said, "How about Emily?"
So, of course, this was the tiny black female's name. Weeks passed, months, and little Emily, Josh, and Ryan grew up quickly. Being the runt, she was far more curious than her siblings, so Emily was an adventurer. She strayed from her pack's lands often, exploring the territories around her. She broke away from the path she was destined upon. The youngest female would be given a chance to take over the pack but would have her mate hand chosen by her father, Sean, and she would get no say in it. She didn't want this fate, so the other option was to leave the pack and write her own destiny. Why this is, is simply the madness that this pack is. Most packs would have the oldest or strongest wolf take over, but apparently, not for Emily's. Yes it troubled her, but she never argued. If the youngest sister chose this path, then the oldest male would battle with his father until one gave up, for if it came close to death, the "almost killer" would be banished. But Emily, bless her heart, was one of the only females in her pack that believed in true love, not fake. So, she had her choice made, and this was to be her path. Leaving her old pack to either make her own, be a rogue, or even join another pack.
Emily not only wished not to have a mate chosen for her, but she also held no desire for leadership over her pack. They were always ruthless, on top of the world in their section of land (Europe). She wished not to lead a group of killers. This did not mean she wasn't interested in leadership of a more civilized pack, it simply meant that  she held no wanting of being a savage ruler of a pack of savages. Her life was hers after all, but now we get to the main part of her history, her main event if you will. Her Crowning Ceremony.
A Crowning Ceremony is her pack's way of making the next alphess/alpha. Emily's was going to be different from many. There have been a few of her ancestors who had made the same choice as her, but not many. Not only would it cause her banishment, but if the alpha's and alphess's son didn't win the fight either, it would make her parents disrespected and the beta of her pack would take over. So, as the ceremony happened, she made her choice. This was considered a sacrifice in many ways. This would open up a door for a new pair of leaders, but it would close their first choice of the queen. So, in a sacrifice, there must be a marking. A lasting imprint, a goodbye. So, both her father and her mother would give her a claw mark on her neck, one above the other, to show their love for her. This was a great honor on Emily's part, however a sort of beginning of disgrace for her family and it's bloodlines.
There was nothing to do after that. So, she left. Now, she looks for a new pack, but whose will she stumble upon? And whose will she join all depends on fate. Which one she is excepted in is also dependent on the winds of destiny...
Joining Keys:
Joining Keys posted and removed - Elite Nnlya
How did you find Age?
I play Incandescence and this is one of their sister sites.
Example Post:
So, Emily had walked for days. Hunting was easy for her, the training she had received from her parents still lingering. The muscle memory, the mental memory, all of it was still there. Ever since her second birthday, Emily found herself almost lost. To be honest, she only stumbled along, waiting for a wolf scent to come to her. Maybe a week had passed and she has had no luck... at all. She just needed a whiff, that's it. Even her specially trained nose couldn't help her. She had began tracking, by using paw-prints, following rivers, prey movements, and she still found nothing. Today was the eighth day? if she had been counting correctly anyway. And she was either going to find a pack today or give up and try to return home, find one of the other packs that her old one reigned over.
So, she stopped and laid down, and rested from the journey of the night before. It had to be midday by now, the sun was burning down on her pelt. She was quick to realize that the air was getting chillier, maybe Autumn was coming. She didn't know the environment here though, so it may be one of the hottest days they've ever had or the coldest, she simply didn't know. But with the brisk wind, came a strange smell. Her eyes
were
drooping, but with the scent her eyes flashed open quick as lightning. Pack wolves...