Name:
Samoset
Gender:
Male
Age:
3 years
Pack:
Pryvanthros
Rank Requested:
Healer
Appearance:
Samoset is a fairly average looking grey wolf. He stands 78 cm high, and his build is a medium between lithe and stocky. His fur is thick and almost fluffy in some areas, like his chest and around his ears. His pelt is mostly light grey in color, though it seems to be more of an off white near his belly and legs. Streaks and patches of black and dark grey pepper his back, and the upper half of his face is a smoke colored grey. His eyes are a light, burnt brown color, not unlike a dead autumn leaf. The only notable scar on his body is the remnant of a harsh burn arching from the upper half of his right fore leg to the tip of his shoulder. It's not noticeable from the front, but if one was to glimpse him from the right side it would be unavoidable.
Samoset is a fairly laid back male. He possesses a kind of "just go with the flow" like attitude, and he his completely unwilling to fight anyone or anything. He often simply accepts what happens to him be it good or bad, and he's lost the urge to fight what he would consider fate. In spite of his lax personality, he is actually quite the pessimist, and he usually expects the worst case scenario. Though he is naturally inclined to compassion and kindness, he may initially act with a disposition that is mischievous, sly, or jocular. Due to events in his past he has become fairly wary of placing his trust in others right away, and though he wouldn't ever really outwardly display this uncertainty, it takes a little while for him to become comfortable with a new ally.
Photo:
Spoiler: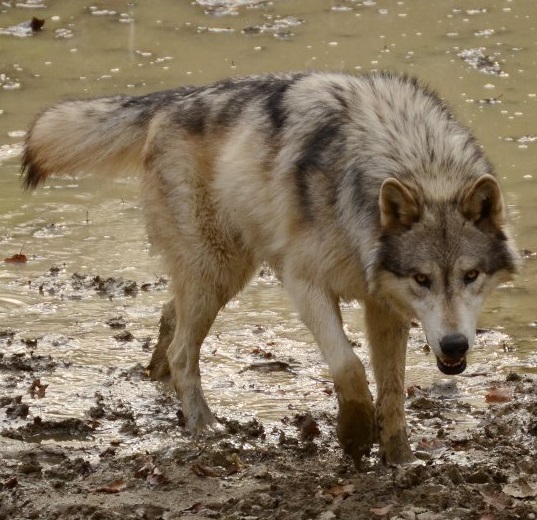 History:
Samoset's story begins with the life of his mentor, Raven, a prominent healer in the East lands of his birth pack. He had been born with two litter mates, but both had been killed in a particularly bloody battle when they were three. His parents had another litter around the same time, but all the pups were sickly and nothing Raven did could have saved them. They all perished except for one, a fae named Fern. Their parents passed away by the time Fern was one, so consequently she grew very close to Raven, the only family she had left. He loved his sister immensely, and for the next three years he did what he could to protect her. There was one thing he could not shield her from, however: the attentive eye of the pack's prince and heir, Amun.
Though his parents, the alphas, were notably strict and ruthless leaders, he was spoiled beyond belief, arrogant without cause, and could never take anything seriously. He did what he thought was fun or entertaining, and he was often perceived as charming and charismatic in spite of his occasional goofiness and frivolous disposition. Raven couldn't stand the male, but for some reason he couldn't fathom, Fern seemed to love him. Amun returned that love, much to anyone's surprise. He was supposedly a vapid moron, and yet he was happiest when he was accompanied by the small, plain, and incredibly wise she-wolf. His parents never would have approved of the relationship considering Fern's low status, so it was kept a secret between them, that is until Raven discovered that his sister was pregnant. He was outraged to learn of the fact; he knew the alphas would slaughter Fern if anyone found out. Amun was naively nonchalant towards the dire circumstance, however. He simply stated that they were going to move out of the pack's territory.
Raven, however, was not convinced of their plan, and in a frustrated rage, he stormed out of the pack clearing, wandering far into the outskirts of their lands. It was there that he suddenly encountered a lone rogue who had abruptly found herself in labor. Normally the cranky, unforgiving male would have ignored her cries for help and walked away, but he knew he wouldn't have wanted anyone to treat Fern with such insolence if she were in such a precarious situation. The healer reluctantly tended to the she-wolf, and successfully delivered two strong, healthy pups. He lingered around the fae until she was awake enough to speak with him, and she thanked him profusely for his help before introducing herself as Mae. She was of strong will and a prideful disposition, and she insisted that she do something for him in return. "What could a new mother possibly help me with?" He snapped in a grumpy reply before starting to lumber off back towards his pack, his back turned to her as he spoke. "Just stay out of the territory and tend to your pups."
He returned periodically to check in with the diminutive family while he was out garnering supplies, and something like a friendship blossomed between them. He learned that she had named her children Ama and Argo, and that her mate had perished at the claws of a bear so that she could escape. He, after some well intentioned goading, told her about the trouble regarding his sister.
Sorrow seized him not long after. He visited the makeshift den Fern and Amun had constructed outside the pack lands with the intention of checking up on his sister, and it was there that he found the male alone, his shoulders slumped in a despair he had never known before, with a small, obviously hungry grey pup at his paws. "Where... Where is Fern?" He inquired slowly, his voice low and cruel and tainted with fear as he addressed the new father. He sadly informed him that she had died giving birth to their son; the last thing she had ever said was that she wanted to name him Samoset. The old male was angered and heart broken, but before he could verbally take his pain out on the already agonized Amun, little Samoset began to whimper. He knew the pup would not survive if he wasn't fed soon, but there was no way he could return to the pack with him. The secret would be revealed and Amun's parents would surely not allow the pup to live.
"Amun... Give him to me. There's someone I know who can nurse him. He can remain with me outside the pack's territory after that. I will care for him. You can just tell everyone I drowned, or had been attacked by a puma, something like that." The male was astonished and reluctant to comply at that; his son was all he had left of Fern. "Well, do you want him to die? He will starve here. If you take him back, the alphas will kill him. For once in your life, don't be a fool. I will take care of him." Amun finally relented then, and Raven took Samoset to Mae.
Mae nursed Samoset until he was old enough to eat meat, and she and Ama and Argo were a kind of surrogate family to him. Mae loved him like her own son, but from the time the pup could walk, he spent much of his time tottering after Raven. He was fascinated by the art of healing, and Raven raised him as his apprentice. While Ama and Argo were enthralled to learn how to hunt and fight, Samoset was much more interested in the medicinal power of lavender and goldenrod.
Raven, now eight years old, was often cranky and moody around his student, but it never fazed the happy yearling. He was gentle and kind by nature, and he took Mae's lesson of the value of politeness and etiquette to heart. The most significant thing he learned as a healer, however, was the power of empathy- it hurt him to see the wolves he loved in pain, and that was why he was always so eager to help them. He didn't understand why anyone should have to suffer, and it was his dream to see a world where everyone was happy. His childish naivety would not last forever.
He and Mae's pups had always been close friends, but for some reason Argo had harbored a deep seated resentment for him. It usually manifested as a petty kind of jealousy; he didn't like seeing him receive praise or recognition from his mother and sister. This is why he trained so ardently in combat. While Samoset was an excellent healer and a subpar hunter, he was a self proclaimed pacifist, and he deplored the notion of harming anyone. He would never be able to compete with Argo in that respect. Still the rift between them widened as time wore on, and by the time they had reached the age of 1 and a half it had become malevolent.
Argo lost one of the games they were playing, and all of the envy he had been forcing down exploded all at once. He told him that no one liked him, that no one really wanted him around, that Mae and Raven were just being kind because they felt obligated to. This hurt the young wolf deeply, and Ama snapped at her brother for his hateful words while Samoset tried desperately to deny it. "Th-that's n-not true... Master Raven wanted m-me to be his apprentice-"
"We all know that's a lie." Argo sneered, his words dripping with a bitter venom. "How could anyone care about you, when your own parents didn't even want you?" A fight erupted between Ama and Argo then as Samoset bolted away in shock and devastation, his heart heavy and broken. He had never really thought about his parents before then, but now that everything he had never wanted to face was out in the open, it was all consuming. He asked Raven about it the next day, but the answer he gave him only furthered his distress.
"Why would you ask me something so frivolous? Why don't you do something useful and get me more juniper, instead of asking stupid questions." He snapped in curt reply, his back turned to him so he could not glimpse the pain hiding in his eyes.
The issue troubled Samoset for many weeks since then, and he spent less and less time around Mae and Ama in order to avoid Argo. That changed when the fae and her daughter arrived at the healers' den, asking in fearful concern if they had seen Argo. Raven responded that they had not, and Mae claimed that the male had been missing all day. The four of them searched together for a long while until Ama discovered a tiny remnant of his scent leading directly into the outskirts of the pack Raven escaped. She and Samoset desired to follow it, but Raven explained that the land there belonged to a hostile pack and that it was safest to wait and formulate a careful plan. Mae was reluctant to leave her son stranded in enemy territory, but she agreed with the healer. Ama was belligerent by contrast; she couldn't understand why they were waiting around while her brother was possibly in danger. That night, she and Samoset snuck away into the pack lands in order to rescue him, and they were astounded by what they discovered.
They saw Argo with an older she-wolf, her indifferent mate, and a small group of other juveniles while they spied from afar. The she-wolf was praising him for his combat ability after he had just defeated a rival, claiming that he would make an excellent fighter and servant. He beamed at her words, much to Ama's disdain and Samoset's remorse. The young healer thought it was all his fault somehow, that he had upset Argo through his avoidance and caused his dispersal.
Ama and Samoset intercepted Argo that night before he could return to the pack's encampment, and they questioned him on his motives for leaving. Ama scolded him for his outrageous deceit, and Samoset apologized for he knew not what before begging the male to come home. Argo merely sneered at their pleas. He told them he was better off with the pack, away from weakling bastards like Samoset. The healer defensively asked him what he meant by that, and Argo responded with a vile jeer that he and Vana, the she-wolf he had fought under, had pieced together quite an interesting tale.
Vana was the pack's alpha female, and Amun's parents chose her as his mate for her startling ambition and strength in battle. She knew Amun didn't love her, and he had no reason to remain faithful to her, but she could never find any evidence to hold against him. That is until she found Argo hunting at the border, and she learned that the presumed dead healer Raven had deserted the pack and that there was a young wolf studying as his apprentice. A description of Samoset pointed directly to Amun's phenotype, and the fact that the one who was training him was the elder brother of the fae she knew her mate had been soft on solidified her suspicions. Amun denied it when she confronted him, but this didn't deter the female from her ploy. She planned to find Samoset and take his life to secure her own caste as the alpha female and ensure the throne to her own pups. She had allowed Argo into her pack in return for his information.
Samoset was mortified to learn all of this, though before he and Ama could react to the news aside from a few harsh words, the male howled to alert his new pack mates of their presence. The juveniles sprinted back as quickly as they could, though the patrol that tailed them followed them outside of their territory. They thought they had lost them by the time they reached Mae, but they were terrified to discover that their pursuer had laid an ambush there, with Vana leading them, claiming that the she-wolves could give her Samoset or perish at their jaws.
Mae and Ama stood strong and resolute, however, and refused. They urged him to flee, and though he protested vehemently out of fear of losing them, they eventually persuaded him to go. "Raven will need your help getting out of here. Go. We'll meet you there soon." He reluctantly relented at Ama's words, and a brutal fight erupted as he fled. When he looked back from the top of a hill a safe distance away, he was devastated to discover that Mae had been killed and Ama taken prisoner.
It was, undoubtedly, the worst pain he had ever felt. He didn't understand why it had happened when they hadn't done anything to deserve it, and he was wracked with guilt over his uselessness. He fell into a deep despair and a vortex of self loathing, and he wasn't pulled from his deprecating thoughts until Raven found him and asked what had happened, why he couldn't find Mae and Ama.
Samoset exploded then, his usually gentle demeanor completely falling apart. His agony took the form of fury, and he raged at his mentor in despair, asking why he had kept everything about his parents hidden and ultimately blaming him for what happened. Samoset ran away after that, tormented by the guilt and sorrow plaguing him. Mae was dead, Ama was being held by a hostile pack, and Argo had betrayed them, and all of it was his fault somehow. He told himself that if he hadn't been born, if Raven had not saved him as a pup, no one would have gotten hurt. He was forced to stop when he was suddenly intercepted by Argo and a slew of other pack wolves, and he tried as best as he could to outmaneuver them, but he was heavily outnumbered, and they were easily making ground. He knew he would be caught and killed, and yet just before the inevitable end could come, lightening suddenly ripped through the thunderous night air. The abrupt white flash struck a nearby tree, and within moments a terrifying fire had begun to spread that cut off the male's attackers.
He was, however, in no way safe. The fire was all consuming, and it almost seemed like everywhere he went, the underbrush was ablaze, a harsh red glow arching up into the black sky from the tree tops. He was frantic with worry; he needed to find Raven, to get him to safety. He eventually forced his way back towards the healer's den, his throat scathed and burning as he called for his mentor. He found the elder trapped by an unsteady pile of smoldering debris, the raging fire quickly closing in on them. Smoke filled his lungs and stung his eyes, but he fought through everything as he desperately attempted to dig his uncle out. He accidentally brushed his leg against a burning bush as he pulled his mentor out, receiving a long, cruel burn in the process. The pain was debilitating, but they still pressed on until they finally tumbled into a river and allowed it to wash them down stream, away from the hellish blaze.
When Samoset pulled his mentor up onto the shore, Raven was barely clinging to life, his lungs badly damaged from the suffocating experience of inhaling so much smoke. Samoset tried frantically to save him, but his efforts proved fruitless. Raven perished there on the shore the dawn following the fire.
Life had lost its happy glow for Samoset after that. He abandoned any hope or purpose he had, and though his whole world had been taken from him, he couldn't even find the strength to wish for death. He admitted to his cowardice and uselessness, and, upon treating his burn, he wandered off into the wilderness, away from the pack who wished him dead and away from the guilt and fear that relentlessly chased him. He has been living as a loner ever since.
Joining Keys:
Joining keys present and removed - Elite Nnlya
How did you find Age?
I'm Scout Yuki
Example Post:
The chill of the demure autumn wind ruffled Yuki's russet colored pelt as she quietly stalked forth, her paw steps light and slow. She took long, deep breaths as she steadily shifted forward, her steel grey gaze narrowed in pensive concentration. She had reached the Helidos border without issue; now there was only the matter of crossing it. The pungent odor of the rival pack wafted towards her on the frigid breeze, the unnerving sensation of wandering so near enemy territory sending minute tremors through her bones. She wouldn't dare admit it, but the thought of being caught concerned her greatly.
It was her duty as Erenyx's scout to gain intelligence from the surrounding packs, and that meant taking severe risks. She had to infiltrate their territory, alone, unseen,  and she had to escape without leaving any evidence of her existence there. She had already taken a plethora of preliminary precautions: she traveled here through a stream to wash away her scent, she took care to remain down wind, she had traversed only across grasses and weeds so as not to create paw prints, and she concealed herself behind various trees and underbrush. And yet, in spite of her relentless planning, moving into Helidos lands still frightened her. She didn't believe they'd be that difficult to evade if she was to be noticed, and even if she was overwhelmed, she highly doubted they'd do anything heinous. She was indirectly reminded of how courteous and congenial Lark and Rose were in the neutral territories, how greatly their attitudes and dispositions contrasted with her own. Of course they weren't weak nor cowardly enough to just allow her to slink in an out of their territory without consequence, but she was fairly certain that, no matter how high the risk, losing her life was not a likely result. That assurance alone was enough to stamp out her frivolous doubts and misgivings; well, that and her own harsh chiding.